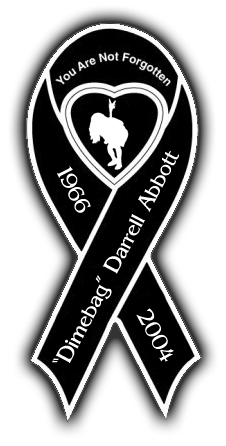 NOTE FROM THE WEBMASTER: On Wednesday night, December 8th, 2004, I witnessed the most horrifying event in my life. Next to my the night I heard that my Dad had been murdered, it was the single worst night of my life.
I saw the murder, onstage, of "Dimebag" Darrell Abbott, former guitarist for the band PANTERA. I had gone to see his current band DAMAGEPLAN, and less than a minute into their set, a deranged fan took the stage with a gun, killed Darrell at point-bland range and then killed three other people: Jeff "Mayhem" Thompson, a security person for DAMAGEPLAN; Erin "Stoney" Halk, an Alrosa Roadie; and Nathan Bray, a fan who jumped onstage to help Darrell. The shooter was killed by a police officer who acted quickly to end the carnage. By that time I had fled the club.

Because this is the first, and hopefully last murder I have ever witnessed, I felt it was appropriate to cover it on this page. Unfortunately I now share a bond with The Abbott family of Texas. We have both had loved ones murdered. Darrell's father was a famous country music producer and writer, so chances are my Dad was a fan of his in some way shape or form, or at least a fan of his work. So that makes it right as well. At any rate, it's something I won't soon, if ever, get over...